Today, I have a video for you on back pain relief exercises.
It is from my friend, Ian Hart.  He is a personal training that focuses on helping people overcome back pain.
Enjoy the video.
4 Life Altering Back Pain Exercises
In the video Ian Goes Through:
4 life altering back exercises
Why motor control is important for back pain relief
The truth about bed rest after back pain or an injury
How the devil is in the details when it relates to back pain exercises
Why back pain is just getting worse in our society
What the future looks like for back pain
How big a problem is back pain
What really is causing your back pain
How sitting funny at work could be leading to your back pain
Common muscle issues that lead to back pain
How muscle imbalances can be leading to your back pain
Link between your brain and back pain
The 4 Life Altering Back Pain Exercises
If you are looking for Back Pain Relief 4 Life, you can check out Ian's program here.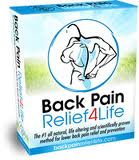 Thanks for watching and reading, we will talk to you soon.
Rick Kaselj, MS
.